We Are Visible Too! Episode 1: Sarah Rightmire 
We Are Visible (Too) is an ongoing mini-film series portraying people with EDS all across the globe. In this mini-documentary series, I will continue on the We Are Visible  – a feature-length film about people with EDS – journey and add a variety of 5 – 10 minute videos of other people across the country that live with Ehlers-Danlos syndrome to the Chronic Pain Partners Production' Vimeo channel, for whom I produced all films.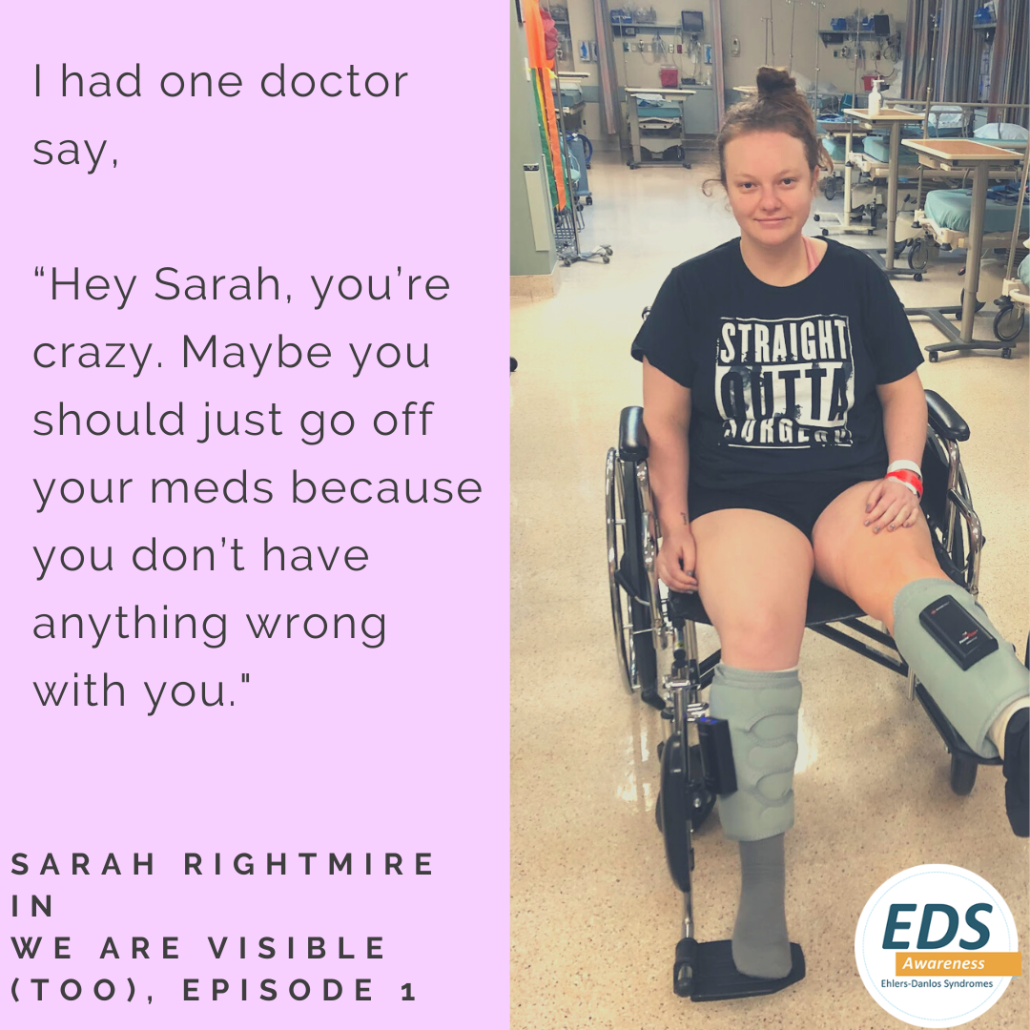 In Episode 1, Sarah Rightmire shares her EDS story. Sarah is a young woman with Ehlers-Danlos syndrome, mast cell activation, POTS and many other comorbid conditions who struggles with the stereotypes others have of her as an invisibly disabled young woman. She is 23 years old, currently finishing her psychology and disability studies degree at Chapman University and lives in Santa Ana, California.
Watch Episode 1 with Sarah Rightmire:
[Accessibility information: All our videos are available with closed captions; some have descriptive audio, for example, the feature film We Are Visible in its original English version. Sarah's film is only available with English captions. Written video description: At the beginning of the video, a text appears: Chronic Pain Partners presents We Are Visible (Too): Sarah's Story. Then a short video with a black-and-white comic-like effect appears. In this video, Sarah, a woman with long, curly blonde hair, plays with her black dog. The dog kisses her face. The comic-like effect fades into a real-life video. In the next shot, Sarah sits on a white couch in her bedroom, with a bed in the background. She wears a red shirt and has brown eyes. Text: Sarah Rightmire, 23 years, Orange, CA. Before the second question, the same comic-like black-and-white effect appears, but this time Sarah sits quietly on her couch and looks into the distance. Text: How did you get diagnosed? Then the comic-like effect fades again. When Sarah talks about her EDS journey, a variety of pictures of her appear. A young Sarah on her bed, cuddling her dog; another young Sarah sitting on her bed; a family photo of Sarah, her brother and her parents; several photos of Sarah in a hospital bed and in a wheelchair. In between, we see Sarah's interview in the same setting on the couch with a red shirt. After this question, we, again, see a comic-like black-and-white effect of a video with Sarah sitting on a couch cuddling a zebra pillow. Text: What's the biggest challenge? Right after, we see  interview footage of Sarah again. Later, we see Sarah sitting in her bed with a large box of medication in front of her, taking some of her meds. Then we see images of Sarah sitting in nature, Sarah at her graduation. After this question, we see a comic-like effect of the same video of Sarah cuddling her zebra pillow, just a closer look at her face. Text: What should people understand? It fades into a real-life video and then to the same interview setting again. Before the last question, we see Sarah from the side with the same comic-like effect. She has her zebra pillow on her lap. It fades into a real-life video and then to the interview setting. Text: What's your biggest dream? In the end, a black and white comic-like illustration of a text on Sarah's bedroom wall fades into the colored text: Wish, hope, dream, and then make it happen. Then a black screen appears with text: Learn more about Ehlers-Danlos Syndrome: www.chronicpainpartners.com]
https://usercontent.one/wp/www.karina-sturm.com/wp-content/uploads/2022/10/Cover-Image.jpg
597
1080
karinabutterfly
https://usercontent.one/wp/www.karina-sturm.com/wp-content/uploads/2019/02/ks-logo.001-300x225.jpeg
karinabutterfly
2022-10-27 18:52:43
2022-11-01 18:02:18
We Are Visible Too! Episode 1: Sarah Rightmire