Book Review: Holding It All Together When You're Hypermobile

For our Chronic Pain Partners Post edition of November 2022, I reviewed author and fellow zebra Christie Cox's new EDS book called Holding It All Together When You're Hypermobile. In this article, we will provide more information on the book's content and what distinguishes Cox's book from other available Ehlers-Danlos Syndrome resources. [We previously interviewed the author as well. Read the interviews HERE.]
For so long, people with EDS have craved resources about the complex multisystemic condition, but accurate information was scarce until a wonderful patient and doctor team, Kendra Neilson Myles and Dr. Lawrence B. Afrin, published their MCAS book Never Bet Against Occam and advocate Diana Jovin added the most comprehensive medical book on Ehlers-Danlos syndrome our community has ever seen: Disjointed! Now, Christie Cox's Holding It All Together When You're Hypermobile adds diversity to those EDS resources, and Chronic Pain Partners feels honored to be one of the first to review this work of passion.
Be better than you used to be.
That's Cox's goal – a goal for herself as well as for her readers. "Not better than the people around you," she clarifies. And everyone can be better! She is right. Too often do we settle for "it is what it is" instead of "this is where I could be." It's scary to try out new things, especially when you have EDS, because many therapies we start and adjustments we make to our lives have the potential of harm, too. It can feel so lonely to be lost in a downward spiral without knowing which of the many available management options for EDS may be the key to improvement. However, now we aren't alone anymore. Cox takes us by the hand and guides us through the fog to a clear path of becoming better – you'll still have EDS; you'll still be sick, but you'll hopefully learn to cope with all the challenges of EDS in a way that doesn't feel as overwhelming anymore and that enables you to live a happy life with EDS.
What you'll find in the book.
Right now, Holding It All Together When You're Hypermobile is available as an e-book and print book with an audio version in the works. So there will be a version for everyone. The book is separated into five sections that follow a logical narrative and build upon one another but can also be understood without reading the previous chapters. Cox starts by telling her readers her EDS story, which immediately establishes a relationship of trust because all chronically ill people share Cox's experiences with gaslighting, gender bias, and misdiagnoses. In between, she adds factual information on the Ehlers-Danlos syndromes, for instance, how EDS presents and is diagnosed, followed by short descriptions of some of the most common comorbid conditions, such as MCAS, PoTS, and CCI.
Part II of the book dives right into coping with EDS and shows you how to overcome the emotional challenges thereof. Cox has a gift for explaining abstract concepts such as coping while validating every EDSer's feelings and, at the same time, ensuring them that they are great the way they are. "Many people think the result of an EDS diagnosis is something awful, but what I hope to impart in this book is the realization that as a result of EDS, you are unique, you are enough, and should think of yourself as a rare and beautiful diamond," she writes in the chapter. I don't know about you, but I like the idea of being a rare diamond much more than the rare zebra doctors don't want to hear anything about. The chapter goes on to explain the stages of grief when one lives with EDS, chronic pain, and how to create a pain management plan, followed by tips on navigating the medical system, which I find especially helpful for newly diagnosed EDSers or people in acute crisis who need a clear and structured plan of action to follow step by step. This helps significantly with feeling calmer even if the situation is stressful and overwhelming in nature.
In part III, Cox teaches stress reduction and what mechanisms to use to achieve it, like mindfulness and meditation. My favorite quote in this chapter is, "Chronic Illness is a bitch, but don't let it turn you into one." Cox couldn't be more spot on. Being in constant chronic pain alone can lead to frustration, depression, anxiety, and anger and changes how we react to outside stimulation, including stress. Cox knows because she has been there herself – again, the benefit of being a patient and author at the same time. She also uses her own experience in chapter IV to show her readers how to restore habits to help the body function better with movement, meals, minerals and massages, and PT. And last but not least, chapter V focuses on the healing habits for the soul. Cox shares lots of useful apps she uses for self-care. She also doesn't hesitate to talk about complex topics, like how to assess the credibility of a support group or how to deal with toxic relationships.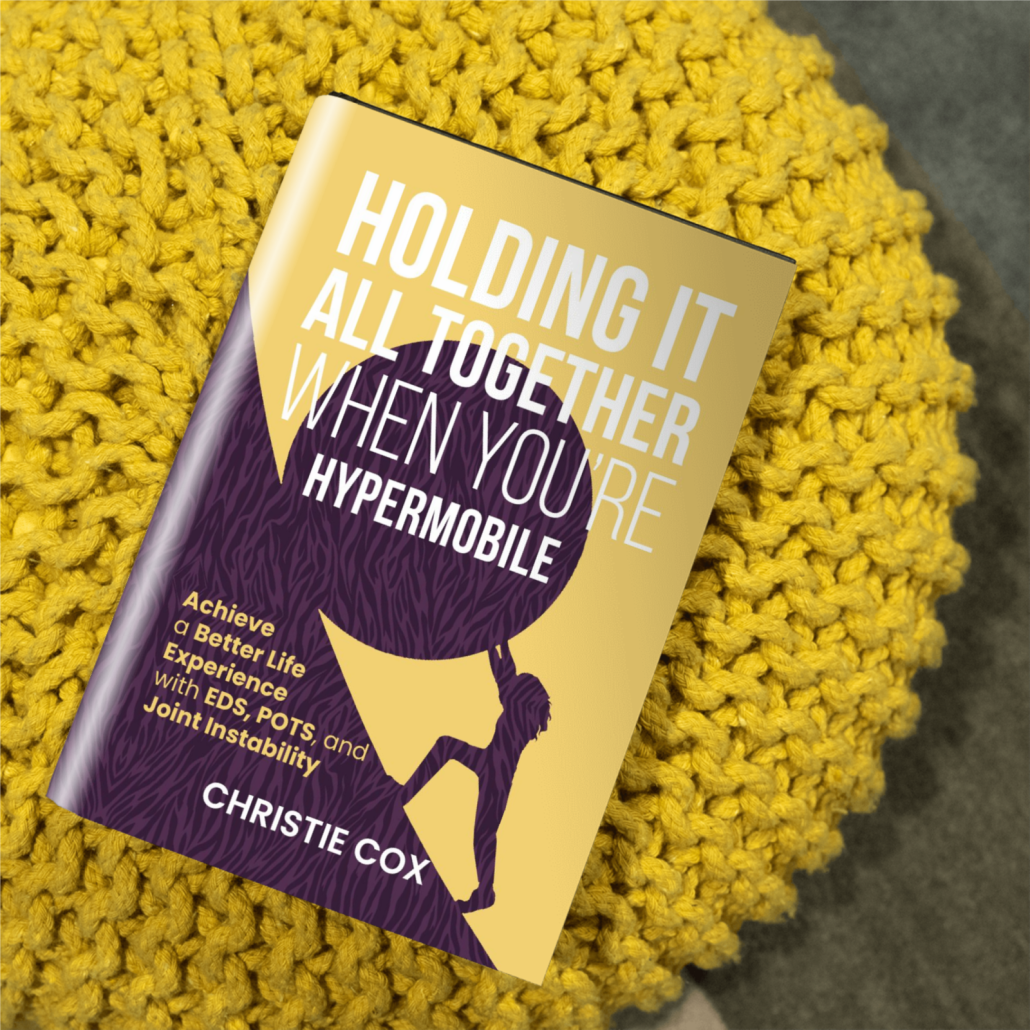 "Making it."
The title of her last chapter says it all. We all just want to make it. But with Cox's book, we'll hopefully do more than simply making it because she provides a toolkit everyone can use to become a bit better than they were before. Personally, what I found very helpful is the call to action at the end of each chapter, when Cox asks us to "assess, act and affirm." It's a section where we question our beliefs and manifest what we read and learned beforehand. It's hands-on, which I feel many people with EDS may find helpful.
Cox provides physical, emotional, social, and spiritual resources and helps to find the skill set one needs to be able to manage one's care faster, better, and with more ease. It prepares you to be the professional patient, which is crucial to achieving the best possible quality of life. We need to be our own experts and be able to manage our conditions as much as possible ourselves. I was captured from page one because I could relate to every word Cox said. Funnily, as an EDS old-timer – I was diagnosed almost ten years ago and feel like I have put together a decent toolkit that works for me – many things stated in the book, I already knew myself. But I barely ever follow my own advice! Do you? But Cox's words gave me the reassurance I needed to truly make the necessary changes to my own life too!
Moreover, Cox finds a great balance in remaining what she calls cautiously optimistic – no toxic positivity here! – while still emphasizing the importance of a positive mindset in relation to your health. "Be real and honest with yourself, but try to find the good things in your altered life plan," she summarizes. Additionally, Cox's tips are all easy to integrate into a daily routine. As we all know, suggestions by non-disabled people often don't work for us. They are too time-intensive and exhausting, just too much for a person with a chronic condition, but as a person with EDS herself, Cox describes the techniques she uses herself, which, in turn, may work for other EDSers as well.
Why you should read Holding It All Together When You're Hypermobile.
If you are asking yourself: Why should I buy another EDS book? The answer is simple. Holding It All Together When You're Hypermobil is entirely different from other EDS books. Firstly, the more books, the more awareness! But secondly, Cox's resource is a valuable addition to other more medical/scientific books because Cox uses a more personal approach and centers on finding a way to live your best life with EDS. Not to say Holding it all Together doesn't give you a medical background. It does, but it's not its focus, which is good! Cox's biggest strength is that she can break down overwhelming situations into several smaller actionable items that give back control to the patient or, in one word: Holding It All Together When You're Hypermobile is EMPOWERMENT.
You can find even more resources on Christie Cox's website:
https://www.holdingitalltogether.com/
[This article first appeared in our Chronic Pain Partners Newsletter of November 2022: https://www.chronicpainpartners.com/book-review-holding-it-all-together-when-youre-hypermobile/]
https://usercontent.one/wp/www.karina-sturm.com/wp-content/uploads/2022/10/Cover-Image.png
924
1640
karinabutterfly
https://usercontent.one/wp/www.karina-sturm.com/wp-content/uploads/2019/02/ks-logo.001-300x225.jpeg
karinabutterfly
2022-10-28 11:19:44
2022-11-01 18:01:05
Book Review: Holding It All Together When You're Hypermobile