Jules Machias about their EDS journey and new middle-grade book Fight + Flight
For our Chronic Pain Partner Post newsletter, the Chronic Pain Partner media team is excited to introduce the EDS community to the new middle-grade* fiction book "Fight + Flight," which features a character with EDS! I had the pleasure to talk to author Jules Machias about their life with Ehlers-Danlos syndrome, their career as a writer, and their recently published book "Fight + Flight."
[CW: The book features an active shooter drill and talks about gun violence. This might be triggering to some people.]
Karina Sturm:
Hi Jules! I am so happy to talk to you today. Your book looks fantastic, and I cannot wait to finally read it. Thanks so much for integrating a character with EDS into the storyline. But before we get to the details about your book, I'd like to know more about your personal EDS journey. Can you tell me a bit about when you were diagnosed and what your journey was like?
Jules Machias:
I am 44 now. I got officially diagnosed when I was 42. I have had problems my whole life, like everyone with EDS. For instance, I was super bendy as a kid. I was always getting hurt, and no one was ever believing me because no bones were broken. I had a lot of joint dislocations before I was 5. I remember my mom driving me to the doctor with my entire arm out of the socket, and I was screaming every time she hit a bump in the road. I had never heard of it until four or five years ago when a friend of mine, whose kids had EDS, was talking about it while we were at this event for our kids. We were sitting around for eight hours, waiting for them to do their math competition.
Meanwhile, we talked about EDS. And I was like, "Wow, this sounds exactly like everything I've ever experienced." She told me about the Beighton Score, and, of course, I could do all those things. Finding a doctor who could diagnose it wasn't easy. Many of the doctors that I had been seeing had not heard of it. So I went to my dad's rheumatologist and brought it up. He ran through all of the diagnostic criteria for hEDS and said, "Yeah, you definitely have this." Since then, it's been a continuous learning process. So I'm still learning how to handle it.
Sturm:
I hear you. With EDS, the learning never stops. I've been doing this for almost ten years now, and I keep learning new things.
Machias:
I like to learn. That's not a bad thing.
Sturm:
That's true. I can also see that you enjoy exploring all kinds of new areas, because in your bio, you're saying you're an artist and an author, but also an athlete. So tell me a little bit about yourself. What do you do professionally?
Machias:
I worked in advertising for about 15 years as an editor and proofreader. I also had been editing and proofreading books on the side. Three years ago, the company I was working for went belly up. I was like, "I really don't want to do advertising anymore. I'm going to start a business." So I did, and it's been working out great. I edit books, hang out in my sunroom with my dogs, and I don't have to get dressed or leave the house. It's the best life, I tell you. That's what my professional life is. I'm an editor and proofreader. I work on many books that people self-publish, and I work for different presses.
Yes, I am also an athlete. I do obstacle course racing like the Tough Mudder. I always come out of those races at the end feeling like I've been hit by a truck, but it is so fun. I've not done as much since I've learned about EDS because there are so many opportunities for joint dislocations, but I love it, and I really miss it. My brother has been on the show "American Ninja Warrior" a couple of times. I don't know if you're familiar with that?
Sturm:
Oh yes, I am! Amazing athletes. I wish I could do sports like that. But I wouldn't make it across the first obstacle without hurting several joints in my body. [Laughs]
Machias:
Yeah, I feel you. He and I used to do that stuff together. He got through the course and rang the buzzer, and he went to Vegas, which was very exciting. He and I did all of it together. Now, I'm more low-key. I also used to do a lot of trail running, but I'm having all these SI joint problems. Now I just run on boring, flat streets. It's not really as exciting, but I listen to audiobooks while I do it. I also weight train and I bike a lot.
Let's see, what else do I do? I rescue dogs, mainly medical rescues. I have one dog who has no back legs. He was found in a ditch in Kentucky a couple of years ago with his back broken, and he was a mess. The rescue organization down there couldn't afford all the medical care that he needed. He had a bunch of surgeries, and then he came up for adoption. I was like, "Yes, that's the one I want!" Since then, I have done a lot of fostering for this organization.
Sturm:
I remember reading in your bio that you try to cuddle all the dogs. I could say that about me as well. I love dogs. But we also have something else in common: creative arts, even though my art is a bit different from yours. I saw that you like painting?
Machias:
I am a Jack of all trades, a master of none. My latest kick is acrylic painting. I am not the best painter, but I enjoy doing it. So here's my latest—[Machias shows their new painting]. I was just like, "I'm going to put a bunch of paint on this canvas and see if I can make it look like what's in my head." And I kind of did, but it's just for fun. I also deal with some mental health issues, like ADHD and bipolar disorder. That's probably the nutshell version of me.
Sturm:
You're wearing so many hats. I want to know more about one in particular: the writing. How did you get into book writing?
Machias:
I have always liked writing. I wrote my first full-length book when I was 18, and it just kept going from there. I have probably between 10 and 12 books on my hard drive that will never see the light of the day, which is good because they're terrible because, while I loved writing, I wasn't necessarily very good at it for the first 20 years. [Laughs] I kept failing, and it was frustrating. But then, in 2016, I connected with my agent. He signed me as a client, but no one was biting. Then I wrote "Both Can Be True" as a young adult novel. When I sent it to my agent, he asked how I felt about aging this down to the middle-grade market segment. It wasn't really what I wanted to do, but he said he knew we could get this published if I did it. So I did it and loved it. And my first book was published!
Sturm:
Do you have a writing background, or what is your educational background?
Machias:
I went to college for creative writing. I have a Bachelor of Arts in creative writing, and I graduated in 2001. There are no jobs for someone who just graduated with a degree in creative writing, but I was always writing on the side. Even though all the agents would tell me I wasn't there yet. So it's just always been my passion. The one art form that I was meant to do. I'm meant to be a writer. It's built into my DNA. I can't deny it.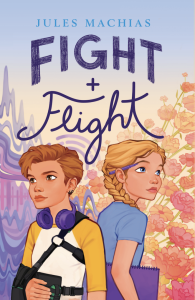 Sturm:
I feel the same way when it comes to my writing, too. I am not much into creative writing yet, but I am super passionate about every article I write because they are about people like you and me: people with chronic illnesses and disabilities. So I very much relate to what you just said. How do you choose the topics you want to write about?
Machias:
They all come from different aspects of my identity, so that's where I start. "Both Can Be True" is about two kids who team up to save a dog. I've been doing all this dog rescue, and I wanted to write a book about a dog where the dog doesn't die. Because when I was that age, all the books that were about animals, the animal died, and that was how the character growth happened. I would be sobbing in the school library, trying to hide my face from my peers.
One of the main characters in that book is gender fluid, and that's a significant aspect of my identity, too. I wanted to explore that in a way that would have this person come out the other end with a surer understanding of who they are. There are a fair number of books about nonbinary people and trans people in Young Adult Fiction, but that wasn't really in the middle-grade segment yet. But the middle grades are where kids are starting to figure that out or where it comes to a point that can't be ignored or denied anymore. Reaching the middle-grade audience with that topic is important to me, as is incorporating dogs into it.
The other main character in that book is a boy named Daniel; and he is the sensitive artist type, and he cries at the drop of a hat. Everybody makes fun of him all the time. I'm a person who has big emotions, and other people don't always like that. So I wanted to write about what that experience felt like. I wanted to reach kids in a way that would make them feel seen and also give them hope. Kids need that these days because, wow, there are a lot of reasons not to be very hopeful about the future right now.
Sturm:
That is very true. So all your characters in the book are inspired by your identity. Now, you wrote "Fight + Flight," which features a person with EDS. Tell me a bit about the storyline of your new book and how EDS is interwoven with it.
Machias:
The main characters of the story are Sarah and Avery. Sarah lives with mental health issues, particularly, anxiety, and Avery has Ehlers-Danlos syndrome. Avery just had shoulder surgery, and Sarah lost two people she was close to. They're both off their game when the book starts. In the early part of the book, there is an active shooter drill at their school. The kids had gotten to the point where they weren't taking shooter drills seriously anymore, so their school board voted to do a drill that was hyper-realistic to put the "fear of God" in them. The school wanted them to understand that this is a situation you need to be prepared for. They did that by incorporating a lot of sound effects into the drill and just scaring the hell out of these kids. Sarah and Avery don't know that it's a drill. It goes on for only about 90 seconds, but it feels like it's the longest 90 seconds of their lives.
When the drill is over, the principal comes over the announcements and says, "This concludes the drill. We hope you took it seriously this time." Avery is like, "F– this crap." On the other hand, Sarah has this unique experience where she's having all of these panic attacks ahead of this drill, but during the drill, she's completely calm. She's very surprised by her reaction, too. Avery responds to this traumatic experience by forming a plan to get revenge on the principal for doing the drill. She's so angry that she was made to feel vulnerable at a time when she was already feeling incredibly vulnerable. She's blaming the principal for all of the things going wrong in her life. She hatches this revenge plan where she's going to set off fireworks outside the principal's house. She has help from Sarah's older brother, who also hates this principal because he kicked him out of the district when he was Avery's age.
Sarah, on the other side, takes a different approach to handle the trauma and unites the kids in class and petitions for change, like a peaceful protest. These two girls have very different reactions to this drill.
Additionally, Avery is pansexual. Sarah thought she was straight, but she also likes Avery. Now she is asking herself, "What do I do with this? Because I've been raised Catholic, and my family is very religious, and we go to church all the time. And my parents have just told me to pray my panic away." She's struggling with reconciling her feelings for Avery with her upbringing.
In contrast, Avery is out and proud. She has two moms, one of whom is trans. This is just very normal for her. It's part of her life and her identity. Playing those two viewpoints off of each other was something I wanted to explore because, at Sarah's age, I was starting to realize that I am not straight. Like Sarah, my upbringing was Catholic as well. There's a lot going on in this book, which got me some pushback from my editor when I turned it in. I responded, "Kids these days are dealing with a lot of stuff all at once these days. The book cannot be about one issue only, because that would not reflect reality."
Sturm:
I think it's great that there is a bit more complexity, and these are all critical topics to highlight. I agree with you! What do you want to achieve with the book?
Machias:
I want to make kids feel seen! That's the most important thing to me. When "Both Can Be True" was published, I started getting these messages from readers where they would say something like, "This is the first time I felt like I read a book that understood who I was." Just one of those messages would be enough for me to write six more books. That is the fuel that I use to make more art.
That's also why writing about aspects of my identity is so important to me because that's how you connect with readers. I've also gotten a lot of messages from parents who told me that my book helped them understand what gender fluidity is. Of course, there are trolls online who give me garbage and call me slurs for writing about middle school kids who are exploring their gender. But really, wow, that's their hot-button issue right now? You've just got to ignore the haters and focus on the good that you can do. That's what I'm trying to do.
Sturm:
I love that, and you are doing a great job. How can we support your work?
Machias:
Just by spreading the word about it. I want this book to reach people with EDS, people who know someone with EDS, or people who suspect they might have EDS because it's still so misunderstood. It's essential to me to use this book to spread awareness of EDS because the more people who know about it, the more people who can get diagnosed, hopefully a lot earlier than I did, and start a lifelong course of handling it a lot better than I could because I didn't have the tools.
Sturm:
Yeah, I know what you mean. As much as I love talking to you, we have already reached the end of our interview. Before we wrap up, tell me what comes next for you? Could you give us some spoilers? Is there going to be a third book, or what are you planning to do?
Machias:
I want to get to the point where I can close my business and write all the time because while I love editing, I love writing even more. Becoming a full-time author, that's my ideal life.
Sturm:
I'm sure you'll be very successful. Please keep me posted and send me your future books, especially if they have to do with EDS.
Machias:
I feel like EDS will show up in all the books from now on just because everybody needs to know about this thing.
Sturm:
That would be awesome. Thanks so much for this amazing conversation. I really enjoyed this interview, and thank you so much for all your work!
Machias:
Thank you for interviewing me!
If you want to learn more about Jules Machias and Fight + Flight, visit their website:
*Middle-grade refers to ages 8 – 12.
This article was published as part of the EDS Awareness newsletter and also here: https://www.chronicpainpartners.com/jules-machias-about-their-eds-journey-and-new-middle-grade-book-fight-flight/
https://usercontent.one/wp/www.karina-sturm.com/wp-content/uploads/2022/07/Machias-Author-Photo.jpg
903
1349
karinabutterfly
https://usercontent.one/wp/www.karina-sturm.com/wp-content/uploads/2019/02/ks-logo.001-300x225.jpeg
karinabutterfly
2022-07-30 21:50:58
2023-01-07 16:19:21
Jules Machias about their EDS journey and new middle-grade book Fight + Flight