German Podcast: Aches, Pains & Smiles
Aches, Pains & Smiles is journalist Karina Sturm's German podcast where she speaks with people with varying chronic illnesses and disabilities to raise awareness for our differences but also similarities and to eradicate stereotypes around chronic illness and disability.
Listen to all Episodes here:
Aches, Pains & Smiles
"Aber du siehst ja gar nicht krank und behindert aus!"
Muss man Krankheit und Behinderung sehen können? Und stimmt es eigentlich, dass wir jede Sekunde unseres Lebens elendig vor uns hin leiden?
Oder wie lebt es sich denn tatsächlich so mit einer chronischen Krankheit und Behinderung?
Zusammen mit ihren Gästen räumt Journalistin Karina Sturm mit den typischen Vorurteilen auf. In lockeren Gesprächen bringt Aches, Pains & Smiles allen Interessierten das Thema chronische Krankheit und Behinderung näher und sorgt so für mehr Verständnis – einerseits zwischen Menschen mit unterschiedlichen Behinderungen, denn wir können alle viel voneinander lernen; andererseits zwischen nicht behinderten und behinderten Menschen.
Unzensiert und ungehemmt – mit ein bisschen Schimpfen, aber viel mehr Lachen – zeigt Aches, Pains & Smiles, was es wirklich heißt, mit einer chronischen Krankheit und Behinderung zu leben.
Moderation, Konzept, Produktion: Karina Sturm
Kevin & Multiple Sklerose, Kämpferherzen
In Episode 6 von Aches, Pains und Smiles spreche ich mit dem Multitalent Kevin Hoffmann, der als Kevin Kämpferherz auf Instagram tausende von Menschen über die Erkrankung Multiple Sklerose aufklärt. Kevin erzählt mir, wie er zu einem der bekanntesten deutschen MS-Influencern wurde und warum sich dutzende Menschen sein Tattoo stechen lassen. 
Lest das Transkript hier: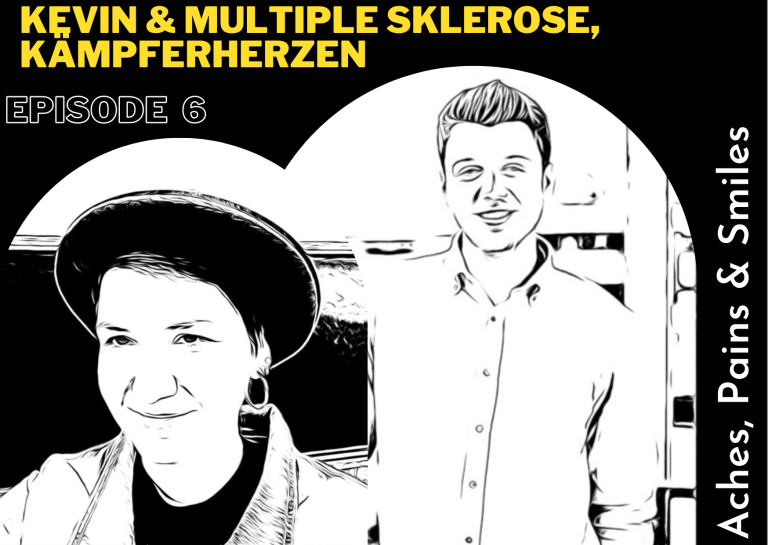 Search Results placeholder
https://usercontent.one/wp/www.karina-sturm.com/wp-content/uploads/2022/11/P1088805small-e1615667953926.jpg
521
1080
karinabutterfly
https://usercontent.one/wp/www.karina-sturm.com/wp-content/uploads/2019/02/ks-logo.001-300x225.jpeg
karinabutterfly
2018-04-01 23:23:57
2022-11-02 18:58:28
German Podcast: Aches, Pains & Smiles