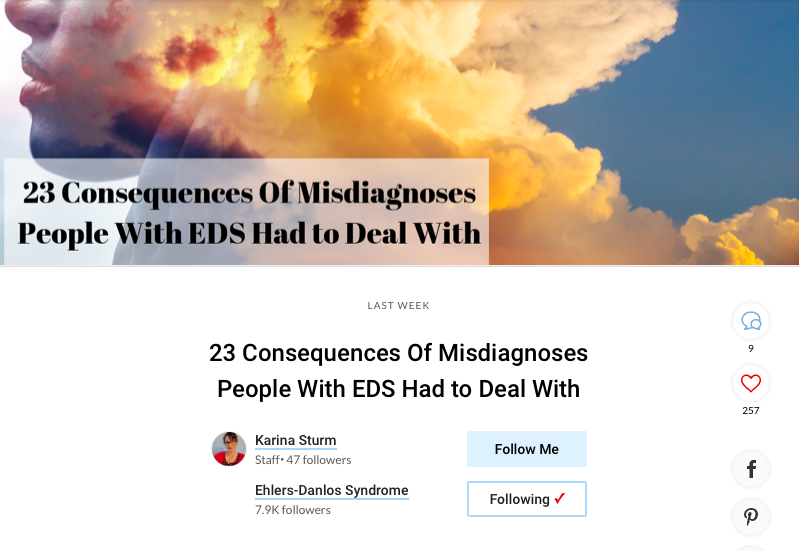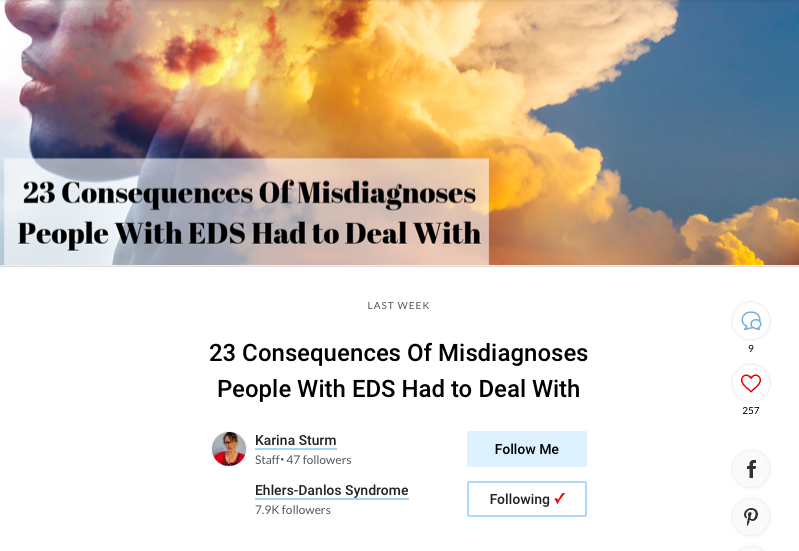 The following are my pieces based on what the community shared with The Mighty.
Many people living with Ehlers-Danlos syndrome need to apply for disability benefits at some point of their journey. This is what they wished the people who decide who is qualified would know:
16 Things the People Deciding Who Qualifies for Disability Should Know
Living with a chronic illness for most parts means also losing some of the people we are close to. This article suggests what our loved ones could do to be better friends to someone living with a chronic illness.
12 Easy Ways to Be a Better Friend to Someone With Chronic Illness 
Misdiagnoses are a common problem for people living with a rare disease. And misdiagnoses can have severe consequences. Our community shared with us what they had to deal with as a result of being misdiagnosed.
23 Consequences Of Misdiagnoses People With EDS Had to Deal With 
It's complicated to find a job as someone who is chronically ill. It seems like there is no career path that fits our needs. However, our EDS community shared with us five possible professions.
5 Career Paths That May Be Great for People With EDS
Getting diagnosed with any illness is overwhelming. It is even harder when it is a rare one since resources might be few. This is why we created a list with helpful resources for people living with EDS. 
11 Must-Read Blogs and Websites for Ehlers-Danlos Syndrome Newbies
Living with Ehlers-Danlos syndrome means wearing braces and using assistant devices. Sometimes, we don't feel very attractive at all. But our community is creative and showed us how they pimp their medical devices to be more fashionable.
40 Brilliant Ways to Make Ehlers-Danlos Syndrome Medical Devices More Fashionable
School or work can be challenging when living with a chronic condition. The following piece wants to give helpful advice to get through a day of work or school with a chronic illness. 
5 Strategies to Master a Day at School or Work With Ehlers-Danlos Syndrome
Have you ever wondered what gift to buy your chronically ill friend for Christmas? Here is what the Ehlers-Danlos syndrome community shared with The Mighty.
18 Gifts to Give Your Friend With Ehlers-Danlos Syndrome
Want to learn more about my work for The Mighty? Continue reading here.