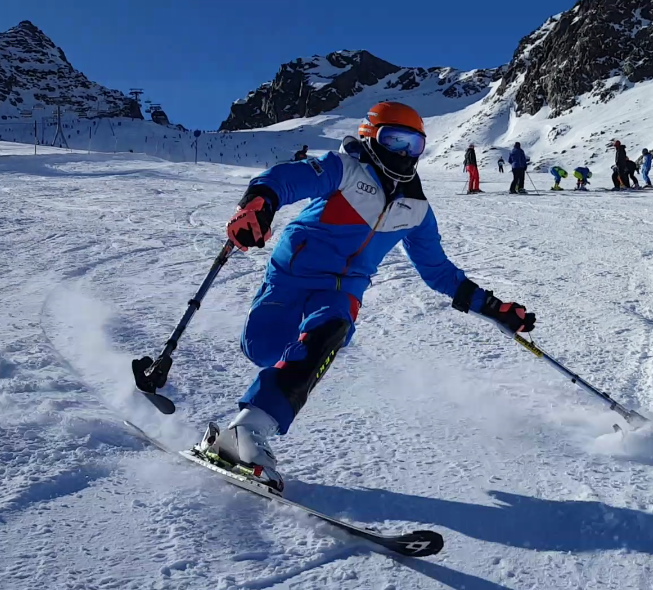 When the helicopter circled over the area on June 13, 2007, the residents knew something terrible must have happened. However, nobody would have guessed what a three-year-old had to endure right at this moment.
The accident
The child often played on the large meadow behind the house in the warm afternoon sun, but this day, he shouldn't have been there. When he saw the lawn mower, it was too late. His leg was pulled into the machine, and before he realized what had happened, everything went black.
It was a sunny day in Holzheim, a neighborhood with only 1700 residents, and part of Neumarkt, Bavaria. The small boy that lay on the grass severely injured was Christoph Glötzner.
He lost too much blood and almost died; his right leg was cut off on his thigh. Two neighbors, who were trained paramedics, heard Christoph's parents' anxious screams and rushed to help. "You have to come right now! Christoph is dying!" Walter Glötzner, Christoph's father, screams into the phone. On the other end of the line stands a confused family friend and doctor, who reacts immediately. Just minutes later, the family's friend as well as the emergency doctor arrived at the location, and a helicopter was called right away. A coincidence saved Christoph's life: The helicopter was already in the air. "Who knows how this would have ended if the helicopter hadn't been close by," Walter says. While Christoph was flying to the university hospital Nuremberg, which is 25 km from Neumarkt, his parents feared for his life. Later, one of the paramedics told Christoph's parents that even though he was full of strong pain drugs, he woke up and asked: "When can I go back home again?"
Weeks full of hope and worry
During the following 14 days, Christoph was operated 13 times and his condition was still life-threatening. Today, the 14-year-old doesn't remember any of it. He was in a coma. "Whenever we arrived at the hospital, the nurse told us, Christoph is in surgery again," mother, Bettina Glötzner, explains. "They tried to transplant Christoph's severed lower leg to his stump, but his body rejected it. His inflammation blood markers rose and rose, and he almost died!"
The surgeons tried to extend Christoph's stump, so he would be able to wear prostheses later in life. His leg was cut far up his thigh, which proved to be the biggest issue. Additionally, the inflammation spread further and led to ever new surgeries. Some weeks later, the wound on his stump had to be closed with a skin graft, which was taken from the three-year-old's head. To support Christoph, his big brother also shaved his head in solidarity. Finally, Christoph's wound healed, and he was released from the hospital after only four weeks.
When Christoph was younger, he would wear this Spiderman prosthesis.

Christoph's first foot on his prosthesis.

First foot versus most recent foot.
Fight back to life
Family Glötzner straightly went to rehab. The Neumarkt resident had to learn how to live with one leg and to walk with a prosthesis. "This time was a rollercoaster of emotions. We had bad days and then better ones," Bettina says. At that time, Christoph was still so small that the connecting part between prosthesis and leg did not fit. His doctors improvised and used a part that was meant for arm prosthesis.
Christoph cried a lot. He couldn't understand why he was supposed to wear this uncomfortable prosthesis, and he believed that his leg might grow again. Since he couldn't walk, Christoph crawled. "We had to motivate him permanently, and needed to get one step further every day," Bettina explains.
Playfully, Christoph learned to see the prosthesis as a friend, to accept it as something that helps him. When he took his first steps with the prosthesis two months after surgery, the whole family celebrated.
His most significant supporter during this time was the chief physician of the rehabilitation clinic in Osterhofen, Dr. Fritz Haas, who, himself, is an amputee. In 1987, the physician lost his leg when a drunk car driver lost control and collided with Haas' motorbike. From his own experience, he could tell what Christoph needed: He sent family Glötzner home. They needed a break from the hard rehabilitation program. However, he did not allow them to take a wheelchair. The goal: Christoph had to learn to get up and walk again. His wheelchair would only hinder him. "For the first two days, Christoph was just sitting on the ground, but during the 14 days afterward, he learned how to actually walk. And we still do not have a wheelchair today!" Bettina says.
Meanwhile, 14-year-old Christoph has various prostheses: one for the daily walking, another one for sports and a third with which he can get wet. His old, outgrown prostheses Christoph collects in a large box in his room. And the motifs on them, like Spiderman and Darth Vader, gave way to the Latin saying: Veni Vidi Vici – I came, I saw, I conquered.
However, it wasn't enough for Christoph to only learn to walk again. He wanted to participate in everything other kids did. Before his accident, he already stood on skis and ran down the slope, but was this still possible? And again, it was the chief physician of the rehab clinic who persuaded Christoph to pursue his goals. He taught him to use outrigger skis, which means Christoph is wearing one ski on his healthy leg and uses two sticks with a small ski attached on the end of each to compensate for his missing leg. Christoph turned out to be a natural. "At first, I've always wondered how I could ever achieve this, but then I said to myself: just do not give up!" Christoph explains.
Skiing pro Christoph Glötzner.

Christoph exercises daily.

Christoph racing down a hill. Copyright: Bettina Glötzner

Christoph and his outrigger ski. Copyright: Bettina Glötzner

Christoph Glötzner in action. Copyright: Gerhard Gruber

Christoph races down the hill; always close to the slalom poles. Copyright Karin Blankertz

Christoph during a slalom race. Copyright Karin Blankertz

Christoph Glötzner and his passion: outrigger skiing. Copyright: Walter Glötzner
Successes
Only six months after Christoph's 13 surgeries, he was already racing down hills in the Bavarian Forest again. The only difference was that this time, he stood on one leg instead of both. Half a year later, you can see four-year-old Christoph driving down a slope while his dad is recording from behind. Suddenly, Christoph stops, turns around, looks straight into the camera, and asks his dad: "Was my curving perfect?"
At the age of eight, Christoph was discovered by a Paralympic ski team. "Back then, I was too small to realize what a chance this was, but thinking about it now is pretty amazing," Christoph says about the exciting moment. He celebrated his so far greatest success at the age of nine: the second place at the Bavarian Championship. But this is only the beginning. Today, he participates in international races and is on the road to Austria or Switzerland almost every weekend.
Christoph is a reserved, polite and eloquent young man who thrives in sports and continually faces new challenges. Recently, he became a lifeguard and got the bronze medal for his exam. Difficult? No, why? "I move my arms exactly the way normal swimmers do too. Just my legs, I move differently, as if I was crawling. There are no problems at all!" Christoph tells quite naturally. "Sometimes you have to fight through situations," he has learned from his great-grandfather, who also lived with one leg. "He walked up to the first floor of his apartment without complaining every single day of his life," Bettina says.
Future plans
If you look at Christoph today, you won't notice any difference to other teenagers. In his basement, he daily exercises, so his leg muscles become stronger. He, therefore, jumps over a rope with one leg; the frequency is so high that he lands one meter apart with each hop, but he does not fall. Learning to handle his limitations at a young age has led him never to consider himself different. If he is asked what he wants to achieve in the future, Christoph's eyes lighten up. He hopes to participate in the Paralympics successfully eventually. And this dream is not so far away because Christoph is currently preparing to qualify for the European Cup.
Christoph does not only strive high in athletics, but he also works very hard in school, since he has a big goal: Christoph wants to become a doctor, just like his role model, the chief physician of the rehabilitation clinic. Studying sports he could imagine too.
Christoph's recipe for success
Christoph does not consider himself handicapped and is one hundred percent integrated wherever he goes. "It's not good to hold on to the fact that I have only one leg or to believe that everything is terrible. Life is much more fun if you just think of the good things that happened to you."
The ability to adapt to a complicated situation is called resilience by medical professionals, and for Christoph this also means to laugh about himself. When he learned how to ride a bicycle with the prosthesis, Christoph lost it halfway. "And the child behind us called out to his mother: Mom, mom, he lost his leg!" Christoph says smiling.
Today, family Glötzner can look back on the difficult times with pride. Together, they have overcome all obstacles and allowed Christoph to follow his dreams. Maybe that's why Christoph never asks, "Can I do that?", but instead: "What do I have to do to make it possible?"
This article was originally published by the Süddeutsche Zeitung and is translated from German to English. Additionally, pictures and subheadlines were added for easier online readability. The English version also includes about 15 percent more details. Structure and overall content have not been changed.
Do you want to learn more about Christoph?
Read this interview with Christoph.
https://www.karina-sturm.com/wp-content/uploads/2018/03/20171031_165846.png
590
653
karinabutterfly
https://www.karina-sturm.com/wp-content/uploads/2019/02/ks-logo.001-300x225.jpeg
karinabutterfly
2018-04-14 00:11:13
2019-02-27 12:10:02
Christoph races through life on one leg.