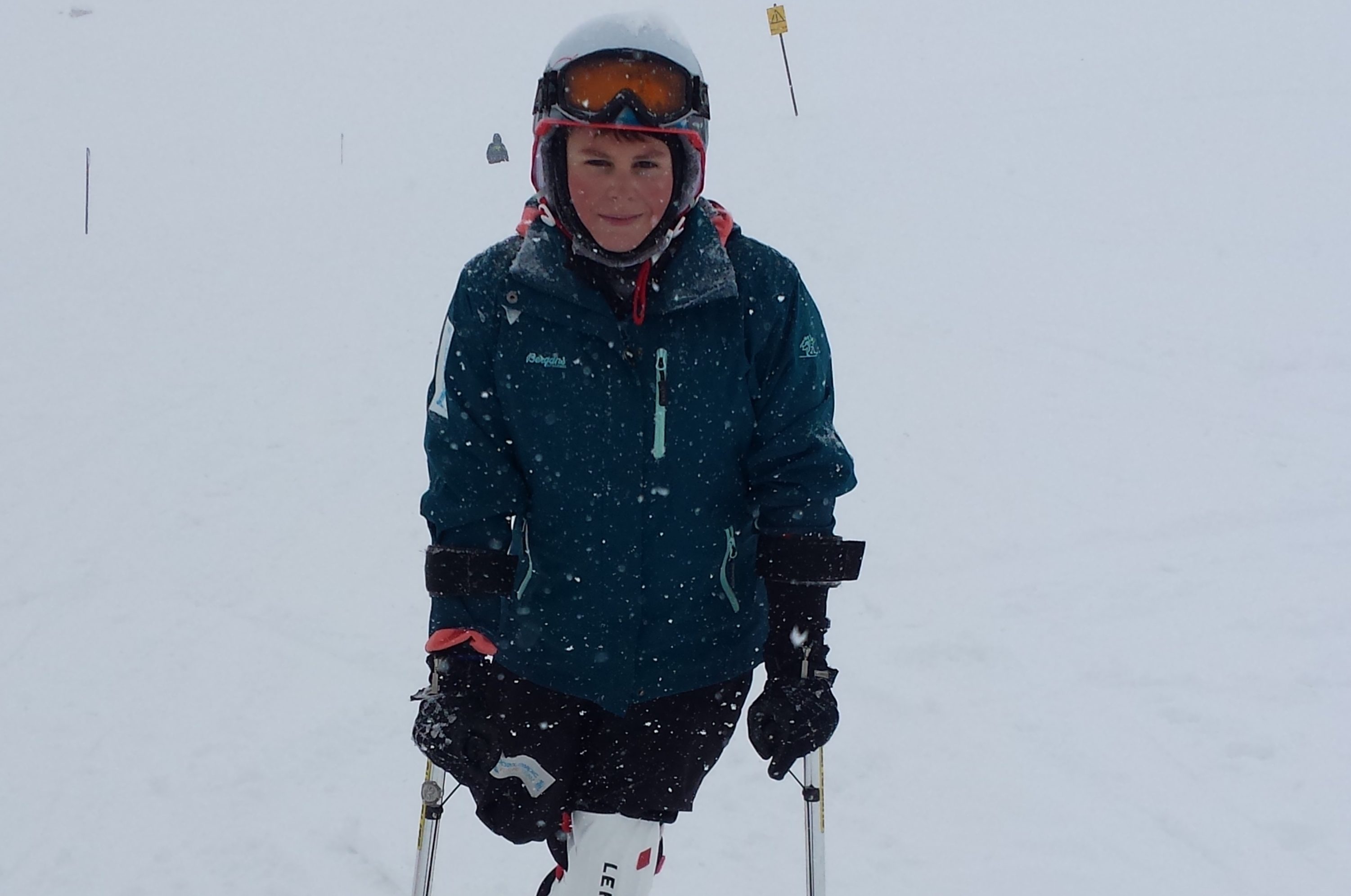 Neumarkt resident Christoph Glötzner was in an accident when he was only three years old. His dream: Attending the Paralympics someday.
For eight years Christoph has been racing downhill on one leg. The 13-year-old explains how he has learned to live with his limitations after the horrible accident, and how he became a skiing-pro.
See how Christoph is doing today, two years after this interview…
Christoph, you were only three years old when they amputated your leg. Can you still remember the accident and the time after?
Christoph:
I only recall the moment when I was standing behind the lawn mower. After that everything went black.
Bettina (mother):
During the two weeks after the accident, Christoph had another surgery each day. Every time we arrived at the hospital, the nurses would tell us Christoph was in the operating room again. He barely survived.
Do you have any problems with your prosthesis concerning specific activities?
Christoph:
Unfortunately, I cannot walk far and have to use assistant devices. Additionally, I suffer from abscesses on my stump.
Do you wear different prosthesis or is there only one for all circumstances?
Christoph:
In the beginning I had only one, because I needed to learn how to walk in the first place. But now I wear several different prosthesis, for example, one to walk, another one with which I can swim, and my newest one enables me to run. The latter is made specifically for sports.
Is there something you might have only achieved because of your disability?
Christoph:
I actually don't consider myself disabled, because I have always done everything that other – non-disabled – children did. Putting on my prosthesis in the morning is normal for me. I am used to it.
Is it hard to put them on?
Christoph:
At first it was a huge adjustment since I only knew a life with two legs.
Bettina:
On one side, Christoph was too small for the usual transitional parts between leg and prosthesis back then, and on the other side, it was difficult to explain to him why he had to wear uncomfortable things like this.
Did you also have some positive experiences during this time?
Bettina: We were desperate at times and thought we could never endure this. But then there were those moments, for example, Christoph's first step with his prosthesis, which were just incredible.
Who helped you through the hard times in the beginning?
Bettina:
We were motivated probably the most by the physician-in-chief of the rehabilitation facility, who was an amputee himself. He simply took away our wheelchair when Christoph was allowed to come home for a couple of days. First, we were shocked. We had no idea what we should do without the wheelchair, but eventually his action really improved our situation. Later, he explained to us that he sometimes had to throw his patients into cold water. Otherwise, they would just remain sitting and not getting any further in their lives.
Christoph:
He is my role model and now I want to become a doctor, too.
How does your environment react regarding your disability? People that do not know you, for example.
Christoph:
It depends on the situation. Some people stare strangely, others just ask politely what had happened.
What do you think, why do some people react weird? 
Christoph:
Probably because it looks funny when I jump around with only one leg.
Meet Christoph Glötzner, the skiing pro!
When you were eight years old, you were recruited for a Paralympic ski team directly on the racing track. But how did you end up skiing in the first place?
Christoph:
We already loved to ski before my accident, and when I had doubts about whether I would be able to ski after the amputation, the clinic's doctor taught me outrigger skiing. I just got up every time I fell.
Did you fall a lot during this time? 
Christoph:
Oh yes, in the beginning I fell constantly, but that did not discourage me from skiing.
One year later, you reached the second place at the Bavarian championship. What else do you want to achieve?
Christoph:
I want to attend a big championship – the Paralympics, for example. Even though having fun is my top priority, I also want to show some performance.
Do you do other sports besides skiing?
Christoph:
Currently, I am being trained to become a life guard.
What is your secret? How could you become such an extraordinary athlete with your limitations?
Christoph:
I always keep moving, and I don't invest time into feeling sorry for myself.
Are there any limits for you?
Christoph:
I try pretty much everything. Only activities that would cause serious harm to my health can stop me.
Bettina:
Learning to ride a bike was hard.
For sure you hurt yourself while trying to learn how to ride a bike?
Bettina:
Actually, we had rather funny moments. When Christoph fell in front of a traffic light, he lost his prosthesis, and a woman immediately wanted to call an ambulance. She thought he had lost a real leg. It was quite complicated to convince her that he was ok, and to calm her down.
If you could give any advice to someone who just got an amputation, what would it be? 
Christoph:
They should always see the good sides of life and never give up! The accident happened, but despite that, life continues.
Translated from German. View the original German article here.
If you want to learn more about Christoph's life, read the English version of an article originally published by the Süddeutsche Zeitung in Germany.
Do you live with a disability and/or chronic illness and want to share your experience with me? Leave a comment here or tweet me @KarinaSturm.
https://www.karina-sturm.com/wp-content/uploads/2018/01/Christoph-1-e1516112725344.jpg
1991
3002
karinabutterfly
https://www.karina-sturm.com/wp-content/uploads/2019/02/ks-logo.001-300x225.jpeg
karinabutterfly
2018-01-16 15:20:17
2019-04-21 01:06:29
Skiing pro Christoph races downhill on one leg