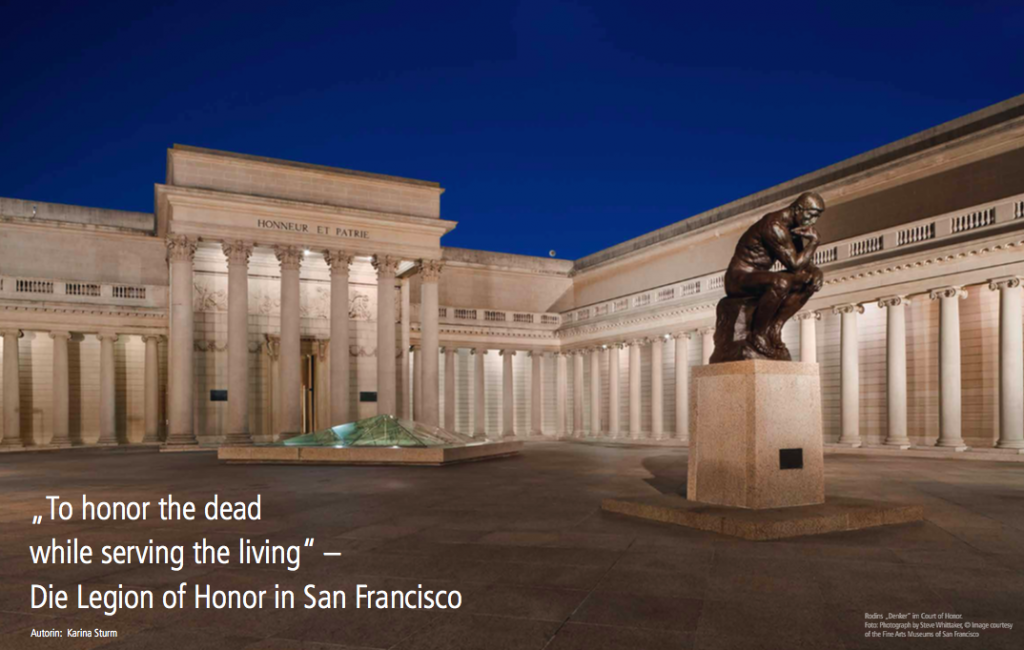 Meine zweite große Leidenschaft neben Medizin und Wissenschaft ist die Kultur, insbesondere Museen und Aquarien. Ich nutze das Privileg in den USA und Deutschland leben zu dürfen dazu meinen kulturellen Horizont zu erweitern und schreibe regelmäßig für das Museumsmagazin in Deutschland. In diesen Artikeln konzentriere ich mich hauptsächlich darauf meine Erfahrungen als Besucher lebendig darzustellen und die Kunstwerke mit den Augen eines Nicht-Kunstexperten zu beschreiben.
Einer meiner großen Artikel für das Magazin drehte sich um die Legion of Honor in San Francisco. Außerdem schrieb ich für diese Ausgabe des Museumsmagazin das Editorial über die Fine Art Museen in San Francisco.
Blättert durch das virtuelle Magazin mit meinem und vielen weiteren Artikeln:
Die Legion of Honor im Museumsmagazin
Oder lest die PDF-Version hier:
Teilt eure Meinung mit mir! Kommentiert hier oder twittert an @KarinaSturm.